Growing up as a kid, I used to put ketchup on everything! French fries, hamburgers, hot dogs, even steak (although I'd never do such a thing now). It was my condiment of choice, and I think it's safe to say that it's one of the most popular condiments in North America.
Now that I have grown up, and my tastes have expanded, I love a variety of flavours, but most of all I love spicy food! With that being said, my new condiment of choice is Sriracha Sauce; I put it on and in almost all of my food now. I guess you can say it is one of my new food addictions.
For those of you who may not be familiar with Sriracha sauce (also referred to as "Rooster Sauce" by some people), it is a chili based hot sauce that it thick and spicy, and can be used as a condiment to put on top of various foods, or can be used as a flavour booster in your cooking.
My favourite things to use Sriracha for is in soups such as Mr.Noodles, on top of Kraft Dinner, and in sauces for pasta or dips. My boyfriend uses it even more than I do and puts it on sandwiches and even makes a butter topping for popcorn by melting butter and generously mixing Sriracha sauce until it's well blended.
Sweet and Spicy Butternut Squash
Sweet and Spicy Butternut Squash is the perfect way to use up that squash you have in the fridge.
1 medium butternut squash, peeled and cut into 1-inch cubes

2 tablespoons olive oil

2 tablespoons maple syrup

1 tablespoon hot chili sauce (suggested: Sriracha)

1 teaspoon salt

1/4 cup crumbled feta cheese

basil leaves
Preheat oven to 400 degrees F. Line a baking sheet with aluminum foil.

Toss squash with olive oil, maple syrup, chili sauce and salt.

Bake in the oven for 30 minutes, give the squash a stir then bake for another 20-25 minutes until the squash is tender and caramelized.

Top squash with feta cheese and basil leaves.
Brown Sugar Barbecue Baked Chicken Wings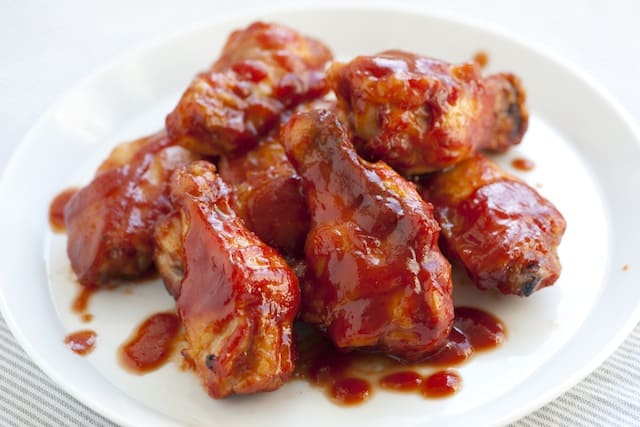 Sweet, smokey and just a little spicy, the sauce for these wings comes together in 5 minutes and is crazy good!
Created By:

Adam and Joanne Gallagher
1 cup ketchup

1/2 cup brown sugar

1 tablespoon apple cider vinegar

1 tablespoon sriracha chili sauce

1 teaspoon light soy sauce

1/2 teaspoon cumin

3 pounds chicken wings, wing and drumstick separated (see note)
Heat oven to 450 degrees F. Line a baking sheet with aluminum foil. (If you have one that fits, lay a cooling rack inside the baking sheet, this helps get the chicken extra crispy – see note below).

In a medium bowl, whisk together the ketchup, brown sugar, vinegar, sriracha, cumin and soy sauce. Taste and adjust the sauce to your liking then set aside 1/2 cup of sauce for tossing raw chicken and save the rest for dipping once the chicken has cooked.

Toss chicken with reserved 1/2 cup of sauce then add to the prepared baking sheet (you may need two). Then, bake chicken, turning chicken once during cooking, until opaque throughout, about 30 minutes.




Serve chicken with the sauce you set aside earlier, either on the side or tossed with the chicken.



To cut chicken wings so that the drumstick and wing are separated, see our recipe video. If you have a cooling rack that can fit inside your baking sheet, use it. The cooling rack will lift the chicken up, allowing hot air to travel around the chicken. If you do not own a cooling rack that will fit inside your baking sheets, just place the chicken directly onto the foil lined baking sheet and make sure you flip the chicken at the half way point during cooking.